About The Event
It is with great honor that we invite you to participate, in the International Leadership Conference (ILC 2022) from May 12-13, 2022 organized and sponsored by the Universal Peace Federation (UPF). The main theme of this conference is: "Contemporary Challenges to the World Order: The Search for Solutions".
Based on the success of the World Summit 2022 held in Seoul in February this year, and following the 2022 Webinars series and Think Tank Forums, the Universal Peace Federation (UPF) Africa Region is launching its International Conference Series of Leadership (ILC 2022).
This virtual conference is held in commemoration of the 62nd anniversary of the Holy Wedding of UPF Founders, Rev. Dr. Sun Myung Moon (1920-2012) and Dr. Hak Ja Han Moon, the Mother of Peace. It also aims to promote various initiatives related to the culture of peace, living together and family values guided by the principles of interdependence, mutual prosperity and Universal Values.
Since 2020, the world has experienced dramatic new upheavals marked by the rise of the Covid 19 pandemic, the war in Ukraine, but also in the areas of geopolitics, global economics, education, media, religion and culture at all levels of society.
While there is reason to despair at the many consequences and damages caused, there is also great potential for the emergence of a wide range of opportunities, new ways of looking at our life together as a global family, with innovative ideas and policies that enhance and accelerate human development.
ILC 2022 will feature webinar sessions that will highlight the work and experiences of experts from UPF Associations and Partners. The ILC 2022 will address the challenges, while promoting realistic and hopeful solutions.
Solutions to World Peace
For the Firm Establishment of a Heavenly Unified World
Interdependence
---
Mutual respect, cooperation and recognition of our common humanity
---
Mutual prosperity
---
Reduction of extreme poverty and commitment to human flourishing
---
Universal values
---
The faith-based common ground that we share across boundaries of nationality, religion, culture and race
---
Forum Opening
Contemporary Challenges to Global Order: The Search for Solutions
Moderator: Amb. Adama Doumbia, UPF Africa Regional President and Regional Coordinator of ISCP Africa
Speakers

Dr. Katherine Rigney, Chairman of UPF Africa Region
Dr. Thomas Walsh, Chairman of UFP International
H.E. Goodluck Jonathan, President (2010-2015), Nigeria
H.E. Dr. Luc Adolphe Tiao, Prime Minister (2011-2014), Burkina Faso
H.E. Paul Biyoghe Mba, Prime Minister (2009-2012) Gabon
H.E. Dr. Nevers Mumba, Vice President (2003-2004), Zambia
Rev. Bakary Camara, Cheon Eui Won Co-Chair (Senior Leader) Africa Region
Session Two
Parliamentarian and ECOSOC joint Session
Moderator: Hon. Issa Mardo, President of SDGs parliamentarian Commission, MP, Tchad
Speakers

Hon. Dan Burton, U.S. House of Representatives (1983-2013); International Co-Chair, IAPP
Rt. Hon. Alban S. Bagbin, Speaker of the Parliament of Ghana
H.E. Dr. Eugene Aka Aouele, President of Economic, Social, Environmental and Cultural Council (CESEC)
H.E. Dr. Delfim Santiago das Neves, President of the National Assembly of Sao Tome and Principe
Rt. Hon. Dr Tulia Ackson, Speaker, National Assembly of Tanzania
Honorable Attractor Chisangano, 1st Vice President of the Parliament of Zambia
Dr Paterne Zinsou, Vice President, UPF Africa, Regional Coordinator of IAPP Africa
Session Three
Women Leadership Vision and Perspectives for World Peace
Moderator: Mrs. May Sacko Gaye, IAFLP PR and Communication Director
Speakers

H.E. Monica Chakwera, First Lady of Malawi
H.E Dr. Patience Jonathan, First Lady of Nigeria (2010-2015)
H.E Mrs. Maureen Mwanawasa, First Lady of Zambia (2002-2008)
H.E. Dr. Specioza Wandira Kazibwe, Vice – President (1994–2003), Uganda
Hon. Filomena Mendes Gonçalves, Current Government Minister of Presidential Affairs, Spokesperson of the Government, Cape Verde
Mrs Susan Kone, IVP WFWP, IAFLP Coordinator
Session Four
Civil Society and Religious Perspectives
Moderator: Rev. George Ogurie, Sub Regional Director West Africa Sub Region and Regional Coordinator of IAPD
Speakers

Imboni Uzwi Lezwe Dr. Radebe, Founder of the Spiritual Home of God, South Africa
Cheikh Soufi Bilal Diallo, President of the Sufi Community of Mali, First Vice President of the High Islamic Council of Mali.
Rev. Dr. Bellow Adetola, World President of Churches of Celestial Christianity, Togo
Dr. Mohammed Marzuq Abubakari, Muslim Leader and Assistant to National Chief Imam of Ghana
Prophet Francisco Jorge, Evangelical Hill of Holiness, Mozambique
Chief Monk Panasekara, African chief monk of Buddhism, Tanzania
Session Five
Education, Arts and Culture Perspectives for World Peace
Moderator: Dr. Paterne Zinsou, UPF Africa Regional Vice-President and Regional Coordinator of IAPP Africa
Speakers

H.E Henri Djombo, former Minister of State, President of the National Union of Writers and Artists, Congo
H.E. Ange N'Koue, former Minister of Tourism and Culture, Benin Republic
H.E. Ntumba Panumpakole, Minister of Professional Formation, Arts, and Trade, D.R. Congo
Hon. Tahirou BARRY, former Minister of Culture, Art and Tourism, Burkina Faso
Rev. Jean-Pierre Kadima, Regional President of FFWPU Africa
Dr. Katherine Rigney, Chairman of UPF Africa Region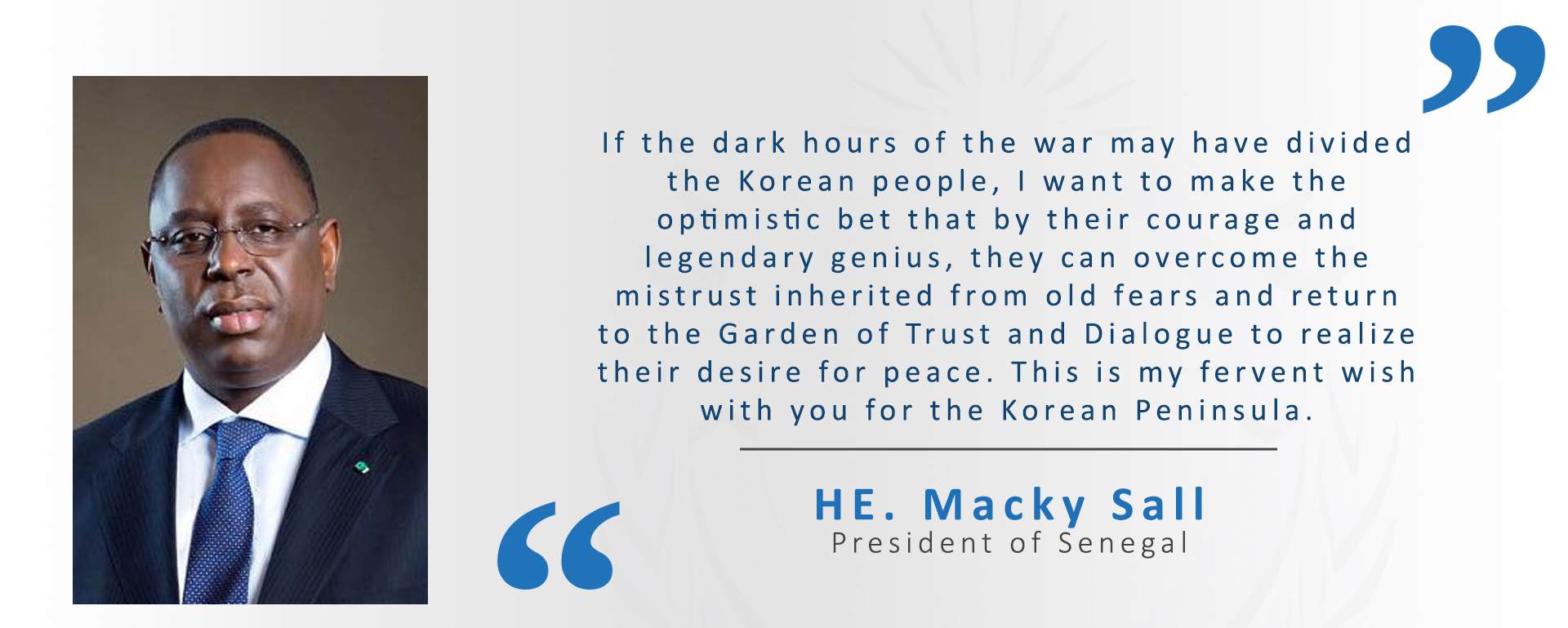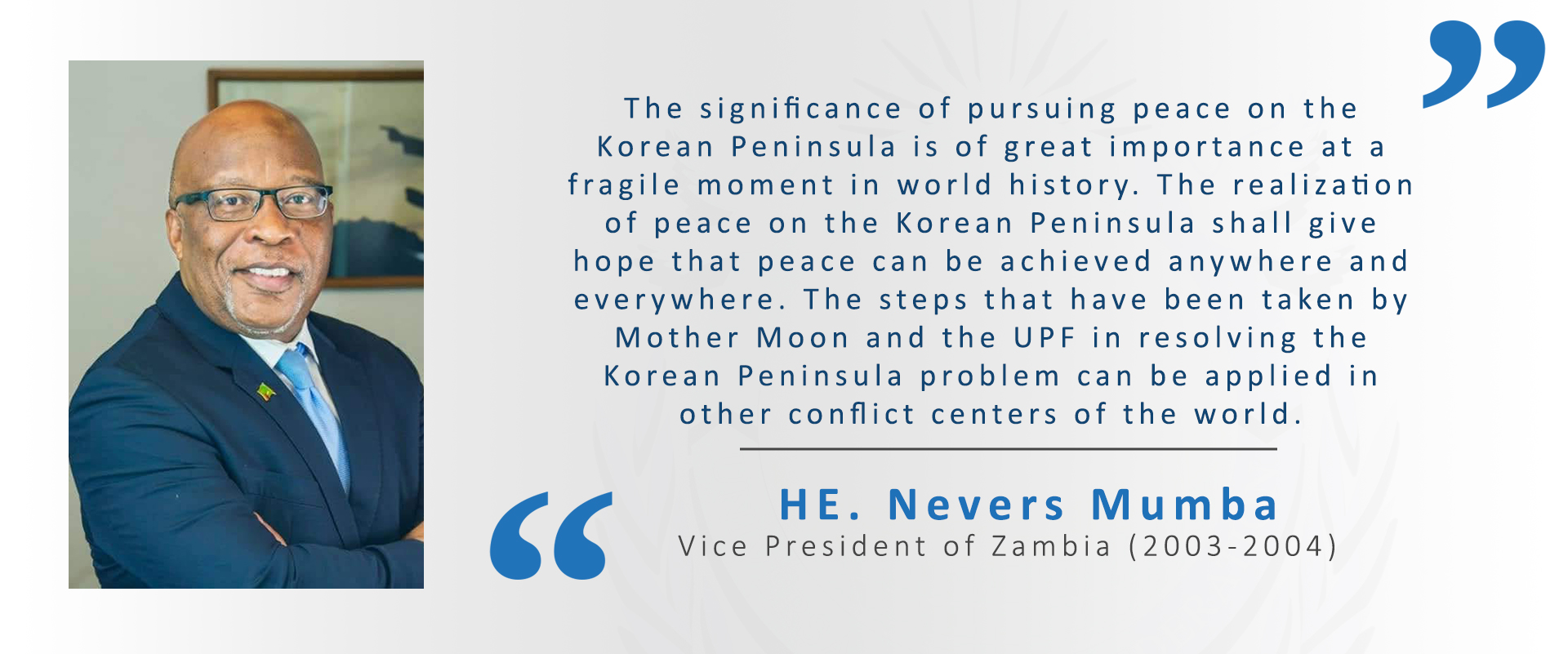 Last Events
Recent Rally of Hope